Are You want to know What are the easiest vegetables to grow in pot at home for beginners ?
There is no such thing as reliable truck farming, but pot gardening is getting close.reducing threats from weather and animals. Another great advantage of pot gardening is that you don't need a lot of space or land.
Some of the easiest vegetables to grow in pots at home for beginners are nightshades such as tomatoes, potatoes, peppers, and eggplants, as well as fast growing crops such as peas and lettuce. Here are 27 vegetables you can grow even if you don't have a backyard but have a patio, veranda, or balcony with plenty of sunshine

.
On the windowsill, you can grow a hot pepper for diablo pizza. It will require a warm, bright place and varieties suitable for home cultivation: "Carmen", "Flint", "Ogonyok", "Ryabinushka", "Bride", "Indian Summer", etc.
The bushes are very cute and do not require large pots. Up to 50 fruits can be set on one plant. The optimum temperature is 25-27 degrees Celsitaba. Are You want to know how to grow tabasco pepper.
Carrot
For growing carrots at home, it is better to take mini-varieties such as "Parmex", "Sophie", "Granddaughter". They grow in 80-90 days and do not require a lot of space - they will be fine with a pot or container. You can also take a funny round variety "Round baby".
The soil for the carrots should be light and well-drained. The vegetable can be grown in cut plastic bottles. The optimum temperature is in the range of 13-24 degrees Celsius.
Mint is a non-capricious and undemanding plant. It can grow on your windowsill or balcony even in winter, if you arrange additional lighting. It can be grown from cuttings and seeds.
If there is an opportunity to dig up a stalk in the country at home or from friends, it is better to use this method. Mint, grown from seeds, is not taken as actively, and it will take longer to wait for the harvest.
It is important to remember that the plant loves well-moisturized soil. And when choosing a place for it, keep in mind that the lighting should be good, but it is better to avoid direct sunlight. The optimum temperature for mint is 20-25 degrees with a plus sign.
Any kind of basil grows well in flower pots and boxes. It is better for him to allocate a sunny place, water well, keep warm and provide good drainage. For planting, you can use both cuttings and seeds.
At the same time, the cuttings will quickly give the first harvest, but they will not last long, since they will bloom quickly. You will have to wait longer to harvest from seeds, but such a bush will also last longer.
The optimum temperature for basil is 20-25 degrees Celsius. In winter, backlighting is required for about 3-4 hours to increase daylight hours.
To grow cucumbers on a windowsill or on a balcony, you should take a closer look at the hybrid varieties that are marked with the F1 icon. If all conditions are created for a plant, it can give 3-4 dozen fruits.
Here you will have to tinker a little with the seedlings, but after transplanting into boxes, you will only need to water and cut the antennae.
Plants are planted in containers with a volume of at least 5 liters. It is important to remember that cucumbers are large water loaves and the ground should always be moist. The optimum temperature is 21-24 degrees Celsius.
Dwarf varieties are usually chosen as home-grown tomatoes: Minibel, Florida Petit, Balcony Miracle, etc. You will have to take the most illuminated place in the apartment for this miracle.
You will need to start with seedlings, then plant them in containers, tie them up, feed them and protect them from the cold. This is one of the most troublesome balcony crops, but pride in the work done and gardening talent is attached to the crop.
Sorrel, in addition to its wonderful taste, is distinguished by the fact that it calmly tolerates shaded places.
It can be grown from rhizomes of 2-4-year-old plants with buds or from seeds of such varieties as "Maikop", "Altai", "Odessa broadleaf".
It can grow at 5 or 20 degrees Celsius and even withstands small frosts. So on the balcony it can be kept until the last, and if the balcony keeps heat well, then it should not be cleaned for the winter.
The leaves are cut at a height of 8-10 cm, this must be done carefully so as not to damage the growth buds.
Ginger is not only a delicious seasoning, but also a beautiful plant. If you plant it at home, the shoots can grow up to a meter in height. Pieces of ginger root are planted, consisting of at least a couple of sections with live buds.
If the root is dry, you can hold it in warm water for several hours to wake up the kidneys.The root should not be planted very deeply, and until the first shoots appear, it should be watered very sparingly.
Keep ginger in the light, but away from direct sunlight. The optimum temperature is 20-25 degrees Celsius.
To grow pineapple at home, you need to be patient and find a suitable fruit - purchased in the warm season and with an intact tail.
The tail is cut with a knife, preferably without pulp, dried for 3-4 days in the light, and then germinated in clean river sand. When the roots appear, after about a month, it can be transplanted into a pot of soil.
Pineapple loves light, warmth and spraying. The fruit will appear about 2 years after planting. The optimum temperature is 23-30 degrees Celsius.
Strawberries can be grown at home all year round, in winter you will need to arrange lighting. To do this, you should choose remontant strawberry varieties that bear fruit more than once a season, but constantly, for example: "Yellow Miracle", "Queen Elizabeth", "Mount Everest".
You can grow strawberries from seeds, but the easiest way is to buy ready-made seedlings. After 3-4 months, a couple of bushes will give new rosettes, and your plantation will increase by 3 times. Meanwhile, as with the germination of seeds, you will have to tinker.
Strawberries are afraid of the cold, so they should be taken out to the balcony only when the weather is warm.
The optimum temperature is 18-24 degrees Celsius. It is important to remember that since there are no insects at home, you will have to pollinate the flowers yourself with a brush.
Thyme is a wonderful herb. It is very fragrant, tasty and extremely unpretentious. Thyme naturally grows in dry areas with poor soil. Therefore, ruining it at home is not easy.
The most important thing he loves is light. It is not afraid of direct sunlight, and it can be placed even where other plants will die. The only difficulty is watering: in the sun, the soil in a small volume of the pot dries quickly, and the thyme itself does no
It also makes no nse to overdo it with fertilizers - thyme will not appreciate it. It can be grown both from cuttings and seeds.
Spinach
Do you like spinach? Do not deprive yourself of the opportunity to grow it at home. Spinach can grow in any type of pot. Give preference to a wide over a deep pot.
Beans and peas
Both beans and peas can be grown on windowsills if there is enough space for this. Field legumes, if planted on windowsills, need to be supported by tying a cord or wire from the planter to the window frame. Dwarf and shrub beans and peas do not require special support, so they are more suitable for landscaping.
A mini-vegetable garden can be an original decoration of the house, it is enough to pick up interesting pots and combine different crops in one container.
In order for the garden to please with the harvest, it is necessary to keep the soil evenly moist, especially when the plants begin to bloom and bear fruit. To pollinate them, you need to lightly comb them with your hand. If there is not enough sunlight in the apartment, then artificial lighting can be used.
Rhubarb
Rhubarb really grows very easily! We only consume its stems. They can be harvested at least 2 times a year. The only requirement is a very deep pot so that it can take root and grow next year.
Garlic
Everyone knows how useful garlic is, so why not grow it on a windowsill? To do this, you need to buy fresh garlic from the store. Plant a large, unpeeled wedge, pointed side up, in well-draining soil.
The depth of the pot is about 20 centimeters. The ground should be constantly moist, and after a few days a green shoot will appear.
It can be used in many recipes in place of garlic cloves. It is better to cut off the shoots with sharp scissors, only 5-8 centimeters at a time. When the leaves are dry, you need to dig up the garlic bulbs.
Green onions
Fresh green onions can be a delicious addition to salads and sandwiches. In a small space such as a windowsill, you can get a fairly large harvest. Green onions can be grown in water, as everyone knows from school, or upright, in plastic bottles. If the first method is chosen, the water must be changed daily.
You can also grow onions in the ground. Any soil is suitable for this, since the culture is unpretentious and can grow in any conditions.
It is not required to equip a window sill with green onions with an additional source of lighting. Natural light is enough for him. The main thing is to water the roots more often and do not forget to loosen them.
WHEAT OATS BUCKWHEAT SPROUTS
One of the most beneficial things for the digestive tract is the germinated seeds. And one of the easiest to perform. Can be grown anywhere, including on a windowsill. This is a positive experience, the seeds grow quickly and easily.
All you need is a deep bowl, a few tablespoons of seeds, and water. After a week, the bowl will be filled with healthy tender sprouts, which can be sprinkled on salads, added to sandwiches or soups, there is little to add to anything, as this is a tasty and healthy ingredient for your favorite recipes.
Mustard leaves
Mustard leaves love warmth and have one advantage: they are maintenance-free. Place them in a medium pot on the sunny side. Choose the variety of mustard you prefer. Use young shoots for salads.
Chinese cabbage
Chinese cabbage is great for growing in pots because it is not bulky. In addition, she does not need a lot of sunlight: the morning sun is enough (about 3 hours a day). The plant needs regular fertilization and moist soil.
Turnip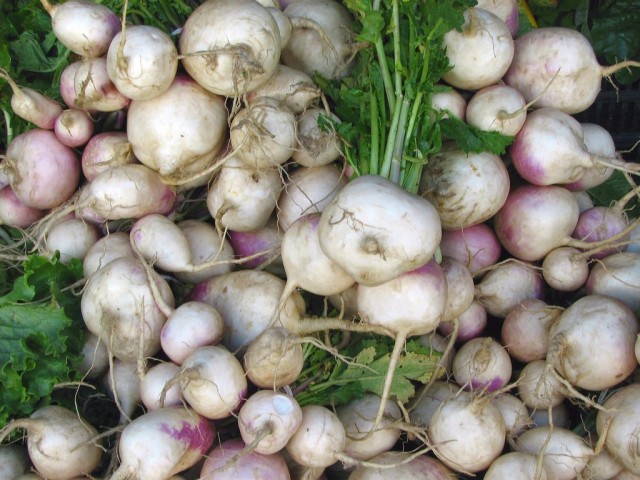 Turnip is a famous relative of cabbage, once very popular in Russia. Today it is grown, rather, as an original curiosity - in order to diversify the vegetable menu. By the way, turnips, like radishes, eat not only the root, but also the aerial part. The greens are ready for culinary use in just 30 days, and the root crops are harvested in about 60 days.
Due to the increased cold resistance, turnip seeds are capable of sprouting at a temperature of 1-3 degrees. However, friendly and fast shoots will appear only at a temperature of 8-10 degrees. At the same time, seedlings are able to withstand significant frosts down to -6 degrees, and adult plants remain alive even at -8 degrees.
But keep in mind that early ripening varieties are less resistant to frost, in contrast to late ripening ones. However, lowering the temperature makes the turnip taste sweeter.
Mizuna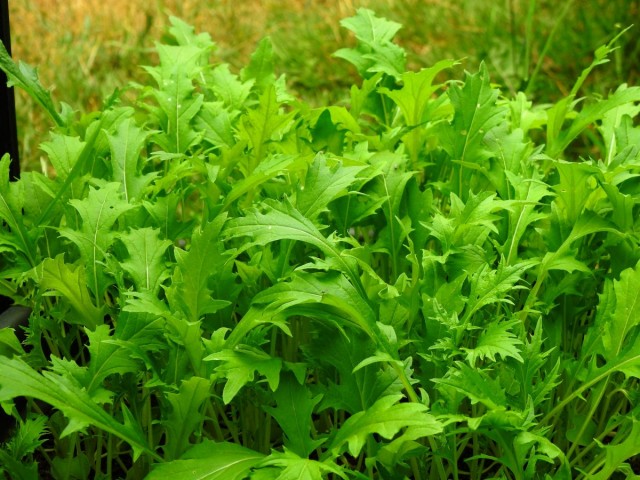 Mizuna, or "Japanese cabbage", is another exotic variety of cabbage that is just beginning to gain popularity among gardeners. This culture does not form a head of cabbage, but grows a bush of 40-50 centimeters in height. Mizuna leaves are very decorative - they are unusual for a feathery cabbage.
Depending on the variety, their color can be green or purple. Gastronomically, mizuna foliage is characterized by a slightly bitter taste and a characteristic mustard aroma. Young Japanese cabbage leaves are ready for harvest about 20 days after germination, when they are about 5 centimeters long.
The whole mizuna is cut off after about 50 days, icase the tops are cut at ground level. If you leave the bushes until the end of the season, then a small cone-shaped thickening forms at the base of the stem, which can also be eaten (the stem of the mizuna tastes like a rutabaga).
Japanese cabbage is cold-resistant, and seedlings can be expected at a temperature of + 3 ... + 4 degrees. Young plants can withstand short-term frosts up to -5 degrees. To obtain a continuous conveyor of vitamin greens, sowing is recommended to be carried out at several times with an interval of 12-15 days.
The textured, lobed leaves of this crop look good for decorating fresh dishes with salad greens, and yet the leaf blades are firm enough to withstand cooking when steamed and seared.
Arugula


Spicy arugula leaves are delicious, and its edible flowers are a sweet treat. They are beautiful too. You don't need a huge container for arugula - a pot 20 centimeters deep and 15 centimeters in diameter will do.
Another advantage of container growing arugula is that you can move it around. Arugula needs about 6 hours of direct sunlight, but it doesn't like the scorching midday sun. Your best bet is to let this plant get full morning sun and move it or position it so it only gets partial sun during the day.
Eggplant


Eggplant is one of those wonderful vegetables that can also be used as a decorative element. Some types of eggplant can be dense and heavy; do not use these types in your container garden.
Look at compact varieties like Fairytale and Hansel, they are beautiful and delicious. Large containers are needed to support the roots of this plant and its bushy growth. Also, if you are purchasing ceramic pots, consider purchasing glazed pots that retain water longer.
Potatoes


Freshly harvested potatoes taste completely different from the potatoes you buy at the grocery store. It has a higher water content and a bitter earthy taste that reveals spring freshness.
Potatoes growing in containers require a lot of soil and water, but they are worth the resources and effort. The containers also provide an extra layer of protection against fungus or late blight (Phtophthora infestans) that spreads more easily among terrestrial plants.
Pumpkin


Pumpkin is an easy vegetable to grow and its flowers are a beautiful and delicate edible product. Most pumpkins require a lot of space and a large enough container. Ideal growing conditions include plenty of light, good soil, and constant watering and feeding.
If you are going to grow your winter squash in a container, make sure the variety you choose is not one of the giant species that can weigh over 10 kilograms and knock over containers. There are many varieties available for container growing and there are even tiny pumpkins.
Bell peppers


and bell peppers Both hot peppers and bell peppers can be amazingly beautiful, especially orange and purple bell peppers in containers.
They thrive in growing boxes, but can be grown in any large container with plenty of sun, good drainage, and constant watering. Dry or too wet soil is detrimental to the pepper.
One of the most significant benefits of container planting of peppers is that you can move your plants inward if incessant inclement weather threatens your area for several days. Peppers come in all shapes, sizes, and colors.
Pak Choi cabbage or Asian cabbage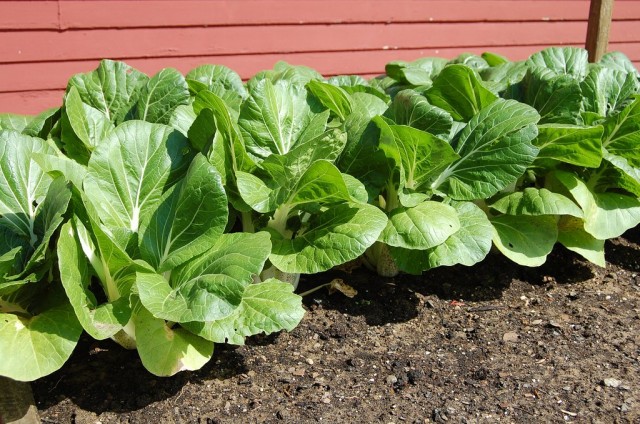 Unusual leafy vegetable with edible leaves and petioles, with a characteristic pleasant taste and spicy aftertaste. The leaf blades can be green or purple in color, they are located in the form of a small vase, which makes the vegetable very attractive in appearance
This cabbage variety is less picky about growing conditions. its Pak Choi is ready for the first harvest in just 30 days.
Young Asian cabbage leaves are good for frying, as an ingredient in soups or fresh salads. Careful harvesting is essential to prolong production. To do this, carefully cut off the outer leaves, allowing the core to continue to grow.
Pak-choy cabbage can easily endure short-term frosts down to -4 degrees and wet rainy weather. In spring, the seeds of this cabbage can be sown as soon as the soil warms up to + 3 ... + 4 degrees, while 2-3 waves of Asian cabbage can be sown with an interval of 7-10 days to extend the harvest time.
Sowing for the fall harvest is carried out as soon as the summer heat subsides, otherwise the seedlings may go into the arrow. Varieties worth paying attention to: Vesnyanka, White Swan , Araks , Chill .
10 Gardening Secrets: What No One Is Talking About
Effective Waste- Free Production Elevator Pitches
7 tips for starting a home garden